April Fools Jokes - The top 100.
Belief-O-Matic - A personality quiz about your religious and spiritual beliefs.
Cell Phone Video - Why you need Blue Tooth for hands free driving.

Diebold Leaks Results of '08 Election
Dog House - Be aware, guys.
Dog Tricks - Type in your command (sit, kiss, roll over, play dead, etc.)

Global Warning Video - Hilarious.
The Government Can - Hilarious spoof on the government.
Hitler and the Mortgage Crisis
The Holy Observer - Back in circulation and as funny as ever.
HowManyofMe.com - How many people have your name?
In the Beginning - A one act play, featuring Adam, Eve and the Serpent.
Jackson Pollock - Drag and click your mouse. OK, it's silly.
JibJab - Hilarious political parodies.
Landover Baptist Church - Don't click on this link if you are easily offended - or are Baptist.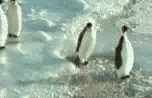 One Liners & Proverbs
Onion News Network - Hilarious news videos... with a degree of truth.
Quotes Machine - On every subject.
Sam the Bell Hop - Incredible card trick.
What We Call the News - Hilarious JibJab presentation.
Whole Book - Good jokes.
Your Name in Snow - Just type in your name and watch the show.