The Christian Guide to
Surviving the Depression
An Ongoing Guide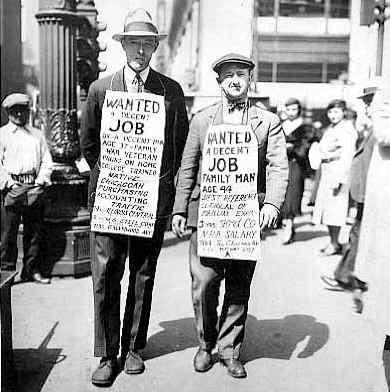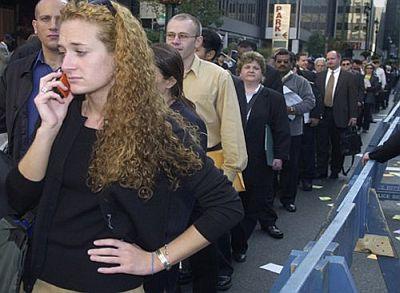 This article is written for the benefit of all people - and especially for Christians who have an understanding and appreciation for the Bible and look to it for instruction on Christian behavior and life in general. Be sure to click on the 100+ hyperlinked words.
"Come, my people, enter thou into thy chambers, and shut thy doors about thee: hide thyself as it were for a little moment, until the indignation be overpast. For, behold, the Lord cometh out of his place to punish the inhabitants of the earth for their iniquity: the earth also shall disclose her blood, and shall no more cover her slain."
Isaiah 26:2
Get the Most Out Of This Article By Clicking
On All Of The Hyperlinked Words!
What to Do If You Have Lost Your Job
Do not feel despondent. Thousands of others have lost their jobs. And thousands more will yet lose theirs. 92 million are unemployed in the U.S. alone. It is not your fault. This is all planned. Click here to see how long ago it was known that this would happen. And it's not going to end anytime soon. Click here for job predictions. Click here for the latest recession/depression news. Click here for one top forecaster's predictions. Click here and here to see how automation is replacing middle class jobs. Click here if you are forced to live in your car. Click here for more unemployment articles. Click here for an alternative view that things are not as bad as we think.

Education is the key to survival. Now is the time to study this website - and others - to understand that depressions, like wars, are all planned well in advance. And they are planned by the "government behind the government". Your "s-elected" leaders simply do what they are told to do. Bailouts and stimulus packages will not work. Just consider them to be a government sponsored "theft" of your money (and your children's). Click here for some good news. Read the Professional Performance Magazine. Read everything on this page and this one, too.

Exhaust all resources for finding work - headhunters, online employment websites and most importantly, friends, relatives, acquaintances and former colleagues who might know of openings. Knocking on doors can sometimes make a big difference. Check out online sources. Be prepared for job interviews. Learn how to answer key questions. Learn how to put together an excellent resume. Read about some of the rules that even the experts aren't sure on. Try putting an online video resume on YouTube. Read Hire Me! Hire Me! Understand the company from the employers point of view. Create a profile on LinkedIn. Create a professional page on Facebook. Crerate a personal profile on Facebook and "Like" or "Join" other professional groups or pages that are related to your industry. Make "Friends" with as many people as possible who might in turn know of an opening. Click on the following: jobs, interviews, resumes, employment, and job market. Also check out Business Insider every day. This company is trying to revolutionize the hiring process. Build your own website.

Now would also be a good time to improve your computer skills and/or learn a new trade. Multi-talented people are always in high demand. Upgrade and post your resume online.

Remember when you used to say, "I don't have the time to..."? Well, now you do. So start studying the tons of self-improvement material available online (much of which is free). And start reading the Bible - and websites that help guide you through the Bible, like the ASSOCIATES for SCRIPTURAL KNOWLEDGE (ASK). If ever there was a time to understand who you are and where you are going, now is that time. Learn what true Christianity really is and who Jesus really was. Try to live a balanced and happy life. Click here to avoid burnout. Keep yourself mentally strong.

No matter how bad off you are, there is always someone else who is worse off than you. Maybe this is a good time to try and help others? Be sure to thank God for the things you do have.

Now is also a great time to get into shape, emotionally and physically. Lose some weight and educate yourself on proper, good health. If you have no health insurance, there are numerous walk-in clinics. Better yet, try an alternative healing practitioner. Or treat yourself, by eating the right foods and taking the right supplements. As no drug has ever healed anyone, maybe this would be a good time to eliminate your reliance on them.

Open your mind to the possibility that your personal setback could actually be the beginning of something even greater. Consider other lines of work - or start your own business. There is help online. What have you always wanted to do? Where are the needs in this new society? Learn from those who lived through the last Great Depression. Learn how to be resourceful, focus on what you want and don't be fearful. Energy flows where attention goes. Watch what the masses do - and do the opposite. Consider attending CEO Space, a group to join for business and self-improvement. Watch there free videos here. Have you considered Direct Selling? Have you seen how much one can make with Direct Selling? Email us if you are interested.

Understand the universal and biblical Laws of Attraction. And the many other similar laws that govern the universe. They continue to work, even in a depression. Learn more about them here and here. Be sure to ask God for His guidance - and a job.

Remember that even though you are unemployed, there will always be a majority that will be employed. And they represent the market for a continuing business opportunity and flow of income.
If You Have Lost Your Savings and Home Value
Ken N.
March 9, 2009
---
---
---
| | | |
| --- | --- | --- |
| This book utilizes biblical scriptures to take you beyond the Law of Attraction to explore the other Laws. | This classic book will give you the specifics on how to be successful and prosperous in this lifetime. | This book will give you the keys to overcoming your life-long emotional obstacles to success and happiness. |
| This book will give you the biblical knowledge of who you are and where you are going. | This book will give you a new perspective on Jesus, His life and His message. Free download. | This book will give you the biblically based recipe for good health and disease prevention. |
| This book will demonstrate the power of words to achieve success in life. Watch this video. | This classic book will give you the tools to achieve success in life and help others at the same time. Free Download. | This book will give you the mindset and knowledge to be successful in business and in life. |
| This book will help all young women to not make disastrous mistakes. | This book will help all young men to not make disastrous mistakes. | This book will give you the strength to pursue your dreams. FREE gift with purchase. |
These Newsletters Will

Help Keep You Informed

This Free newsletter by Dr. Robert O. Young is the equivalent of a college course on the New Biology - and the root cause of all disease.

Dr. Mercola has the largest alternative medicine newsletter on the Internet. He also covers a lot of other interesting subjects on many varied topics.

The Mike Adams newsletter also covers the latest in alternative health subjects and news on government regulations and corporate interference.

Gary Craig's famous EFT newsletter consists of samples of successful EFT useage.

The APFN Newsletter covers the complete spectrum of political and other interests.

Amped Status brings you all aspects of the latest in NWO news.

Lew Rockwell's newsletter provides commentary on a wide range of timely subjects.

News With Views offers commentary from many of the world's top freedom loving writers.

Jeff Rense - No newsletter is available, but the main site is updated daily.

Watch Unto Prayer - Highly informative Illuminati newsletter from a Christian perspective.

Health Freedom Alliance - Highly informative alternative newsletter.

Health Truth Revealed - Highly informative alternative newsletter.