By Donna Porteous
Every day I am asked questions about the alkaline lifestyle such as practices, foo, beverages, exercises…. all toting to be alkaline or which have an alkalizing effect that clearly do no and are not.
Often I meet with new clients who have been working on an "alkaline system" or who have received "alkaline advice" or who have been doing all sorts of "alkaline cures" and eating alkaline, clearly were not; otherwise their symptoms would have disappeared and the root of their health issues would have already cleared and healed. It's true we are alkaline by design and acidic by function. There is only one sickness, illness and disease though with many names and faces. It's over acidification of the body fluids, tissues, muscles, organs and bones.
There is only one solution, reverse the condition of over acidification by eliminating the acidic build up in the body through the five channels of elimination and allow the body to restore and heal itself by honouring the innate alkaline design of the body, for when it is restored the body naturally heals itself. It is obvious when we look at our blood for the blood never lies but our mind and traditional training can fool us.
I am always surprised when I listen to someone's story and then look at their blood. It is such an eye opener and refreshing at the same time. So I am putting all those questions, issues, myths and false educational totes here for you in hopes that you may benefit.
1. Apple cider vinegar is alkaline. Absolutely FALSE. It is highly acidic just like all other vinegars and robs our body of our own natural alkaline buffers; sodium, magnesium, potassium and calcium. It is made from fermenting apples. Right from get go it is acidic because apples are too! Being a vinegar, it is also a neuro toxin. It is fermented which means rotten. This goes for ALL fermented foods. They are rotten and do not belong in our body. They may appear to give results, but I assure you it is short term and at a long term risk to your health.
To test this out we used pH strips to test our saliva. First we tested our saliva base number. It was 7.4. When we ingested the apple cider vinegar our saliva pH in 30 seconds went highly acidic to a 4. When tested in another 30 seconds it went highly alkaline to a 10 (this was our body naturally compensating for the acidic overload and purging our buffers mostly sodium). Then the miracle happened. In another 30 seconds it went back to our normal healthy 7. 4 on the pH scale, slightly over alkaline.
So apple cider vinegar is toxic, fermented acid and does not belong in our body. We all know that vinegars are acidic, all vinegars! Common sense.. grade 3 science… vinegar is an acid.
2. Fruit is alkaline. FALSE. Traditional fruit is fructose aka sugar which is acidic. There are two types of food and beverages; alkaline or acidic. This makes life very easy and simple and true health even easier. Sugar aka acid equals illness and disease. There are 7 friendly fruits that either are or have an alkalizing effect on our body; avocados, lemons and limes (both are high is alkaline minerals), coloured bell peppers, tomatoes, cucumbers occasionally grapefruit.
Yep all those berries, apples, pineapples, mangoes, bananas, grapes etc are all high sugar and acidic. Even though they may tote health benefits, they are 100% acidic with damaging long term side effects. You can get all the benefits without the acidic toxication by eating and drinking green coloured veggies.
However, if you are eating traditional fruit eat it in the morning on an empty stomach and 20 minutes away from all other food and beverages. And never mix it with any "healthy" item like yogurt or granola… it's alcohol poisoning at this point as it begins to ferment and make acetaldehyde from fermenting in your bowel.
3. Mushrooms are healthy for us and are an alkaline veggie. FALSE. They are mould and fungus and 100% acidic. Think about how they grow and what they naturally grow out of…. right! NO more mushrooms… medicinal or otherwise.
4. Natural sugars are okay like honey (regurgitated bee saliva) or maple syrup (sap of sugar and water). FALSE. Both are sugar and sugar to the body is sugar! Besides maple syrup is full of mould which often is visible in the bottle before it is even opened. It grows in the sap and is still in the syrup once boiled down. I can assure you that after all the years of tapping, boiling, bottling and selling it I have seen my fair share of this. Yes, yummy, natural but 100% acidic and toxic to us.
5. We need lots of protein. FALSE. The average person only needs .8g per 2.2 lbs of body weight daily, of a healthy digestible usable protein. Heavier workouts and athletes may require more.
Greens (chlorophyll) builds healthy blood which builds healthy body cells used for tissue, muscle, organs and bone cells. That means with a green plant based nutritional source, 100 calories of dark leafy greens like kale or spinach has double the protein per 100 calories compared to that of any meat. It makes it.souch easy to get ample amount when drinking green shakes. Get your greens on and build strong healthy muscle easier, faster and less down/burn time because there is way less acidic build up.
6. Whey is a healthy protein source. FALSE. Whey is a toxic acid with side effects that cause congestion in our body systems leading to acidic poisoning. Whey is the scum produced from the bubbling foam from making cheese, then skimmed off the top, dried and processed and then packaged and sold as a "protein" supplement. It's scum for peets sake!
Once again it has been funnelled into profits and business at our health risk. All it does is make our blood sick and congested. So all those pre-fab shakes and smoothies are adding to your health issues and concerns. Healthy food has no side effects. It also has no bar code unless it is fresh vegetable and needed to be bagged for the produce department.
7. Eggs are good for us. FALSE. Eggs are full of thousands of bacteria and acidic… looks like bugs under a microscope. They are a chicken's period, a potential little chic.
8. We need dairy for calcium. FALSE. Dairy is very dirty and full of thousands of puss cells per liter plus it is liquid sugar and 100% acidic. It contains animal casein which is for building animal hooves and interferes with our human design. It is meant for calves not humans. It is a government business.
By ingesting dairy in all its forms we rob our body of minerals as it tries to buffer the acidic liquid or cream sugar. Our body saves us by purging calcium out of our bones to buffer the acids from it…. thus osteoarthritis and osteoporosis. Eat dark leafy greens to get way more calcium and zero negative side effects.
9. "Healthy Chocolate", organic cocoa/cocao has health benefits and good for us. Believe me, I wish I could lie on this one but NOT. It's FALSE. All, yes ALL chocolate has two lethal ingredients… theobromine and methobromine and 100% acidic. If any of it is ingested by an animal it can kill them. It does the same to us too. The death is just slower with longs side effects like constipation, spastic bowel, skin irruptions, headaches and such.
10. Nuts and seeds are good for us. TRUE and FALSE. All food needs to be liquefied before it goes into our small intestinal tract. Nuts and seeds NEVER liquefy and become lodged in our bowel to fester and irritate us thus compromising our gut health.
Nuts carry mould, mildew and bacteria in the air space between the skin and the shell. Almonds have the least amount of space and therefore less opportunity to be contaminated. Still drink your nuts… as in almond milk. Best to make your own fresh but if you buy make sure it has fewest ingredients and no carrageenan.
11. Gluten is the culprit and dangerous for us.TRUE and FALSE. Yes…. it makes a glue like substance inside of us like paper mache. In fact any flour mixed with water makes a glue like substance. But there is so much more to it.
It's all grains especially stored grains. They are 100% acidic. Just like graining a horse causes colic, ulcers and can flip their stomach; it creates harm to us too! Grains congest our bowel, increases our sugar load and upsets our delicate pH.
The few exceptions occasionally would be quinoa (actually a seed), wild rice or basmati brown rice, buckwheat and only in small servings. Then there are sprouted grains, still acidic in bread form. And different from fresh sprouts which are healthy alkaline greens, ONLY if they are grown and cared for properly. Otherwise they can collect mould and mildew fairly quickly if not attended to in a timely fashion.
12. Coffee is healthy for us. FALSE. It is 100% liquid acid that stresses out our body especially our liver and kidneys. It robs our fluids, tissues, organs and bones of alkaline minerals cause unlimited health concerns ulcers, acid reflux, headaches, synapses corrosion, poor eye sight and more.
13. Tea is better than coffee. FALSE. Dried tea leaves have mould in them from the drying process and are 100% liquid acid affecting the same body parts as coffee. And yes, macha green tea is acidic too as is kombucha (fermented tea). Best to make fresh teas from lemons, limes and fresh green herbs.
14. Too much water is harmful. FALSE. Our body uses water to keep us internally flowing and clean. What we don't need gets discarded. However the water does need to be alkaline otherwise we are adding more liquid acidity to our bodies and not benefitting the way we could be thriving.
15. Pro-biotic, pre-biotic and digestive enzymes help us and improve our health. BIG FALSE. These three are 100% acidic. They act like Pac Man and go into our gut to help clean it up from build-up stuck food that is 100% acidic anyways, by eating the chronic impacted bowel. However, when they are done eating the waste they continue to eat us… our tissue from the inside out. It leads to bowel issues and eventually causing long term harmful side effects. It is a dangerous way to get short term relief with long term health issues.
Now how about those "friendly flora" aka bacteria, that everyone natters about. Yes, they are 100% acidic and are only present when the bowel is congested. It's our system breaking down internally to save itself. It knows what to do to keep us healthy but when we fill it full of acidic trash it can't keep up and goes into holding, fermenting and bloating mode.
No need for more "friendly flora" aka bacteria to add to the "clutter". It's kind of like stuffing an already filthy full closest with more junk and we all know that one day that closet is going to need to be cleaned out if we want to continue using it.
So, clean it out properly the first time; do a liquid green feast for 3-10 days allowing your body to come back to harmony. This may be required a few times. You know, like the initial clean and then the revamp and organization phase of a closet.
Did you know that even aloe vera juice/gel is a "natural digestive enzyme" and if over done can create long term issues in our bowel. The answer is to stop putting the acidic toxic food in, chew your food well and drink green juice, intake healthy oils and water to keep the bowel clean and healthy. Remember, a healthy bowel moves 3 to 5 times daily.
16. Anti-biotics get rid of illness. TRUE and FALSE. Anti-biotics are 100% acidic. When they enter our body they shock our alkaline buffering system at an alarming rate. Kind of like adding bleach to shock a dirty pool to clear it up! What happens is because of an over load of chemical acidity from the medication our body is forced to once again rob our tissues, muscles, organs and bones of our very own minerals (sodium, magnesium, potassium and calcium) to encapsulate the acidic illness, usher it out one of our five channels of elimination (bowels, urine, breathe, lymphatics or glymphatics) and restore harmony back to our body.
It's short term relief with long term side effects once again. When really all we need to do it boost our own system with electron rich alkaline foods and beverages and return to vibrancy.
17. Salt is bad for you. TRUE AND FALSE. Typical table salt is processed, bleached, toxic and dangerous for our health. Coloured sea salt is low in sodium and high in minerals.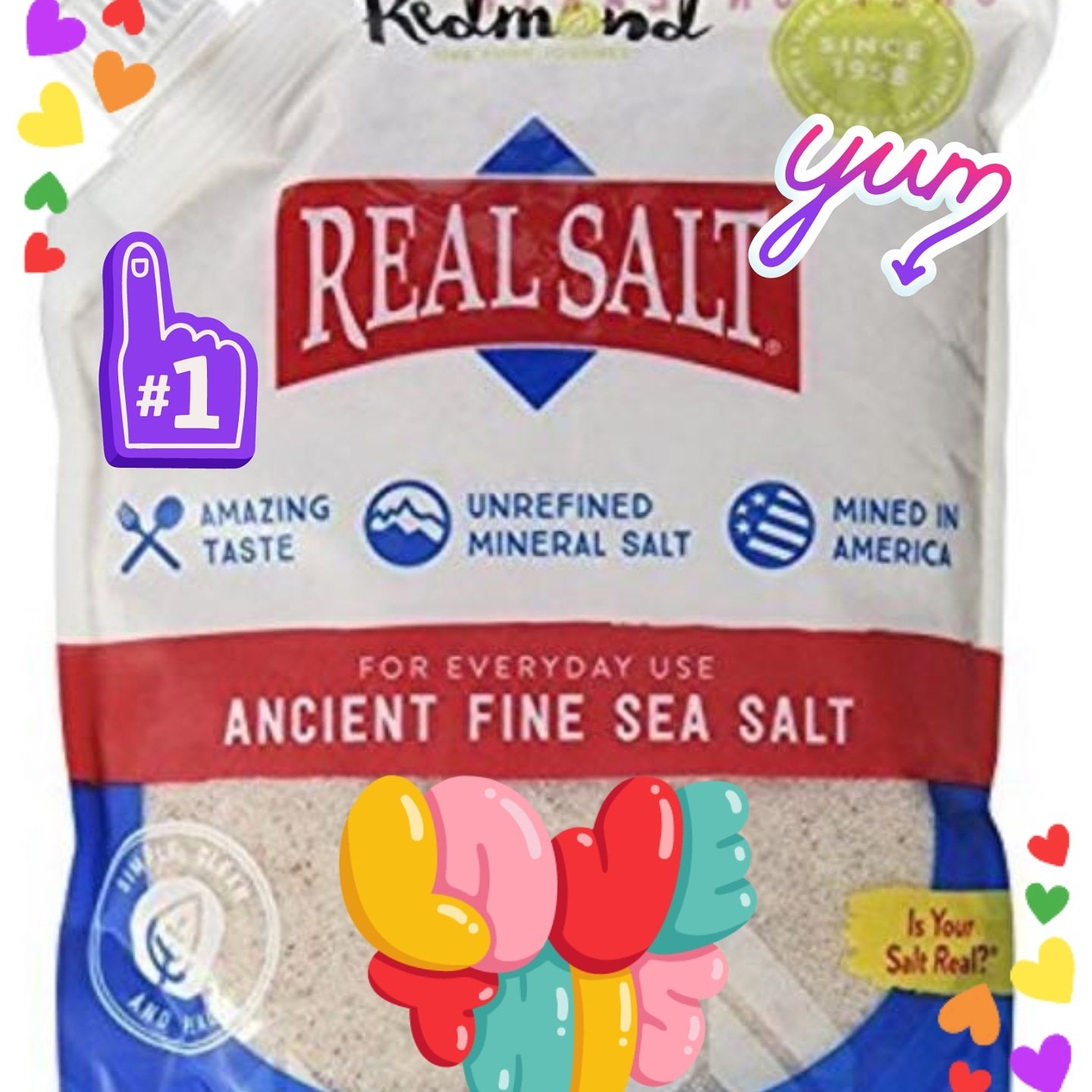 Every one of our systems relies on the electrical potential of salt so that we can be healthy. Our body's pH affects every single system in our body. Our pH for all our fluids, tissues and organs are alkaline aka salty. If sea salt was bad for us the ocean would die and so would all the creatures including us (fyi the ocean pH needs to be 8.3 and it has slid to 8.2) Sea salt is life. I use Redmond's Real Coloured Sea Salt.
FYI… craving sugar is our body's way of showing us it needs sustainable energy… SALT. Eat healthy coloured sea salt, lose the sugar cravings and improve your health at the same time. Here is the simple equations of life… Salt is Sol. Sol is Soul. Soul is Energy. Energy is Life. Life is Salt!
18. Healthy Oils…. it is good to cook with oils. FALSE. After reading Fats that Heal and Fats that Kill by Udo Erasmus, I will never put any oil in a pan again. When you heat oils past 112° they turn rancid and are in no way healthy in that state. One exception is coconut oil which can be heated to 176° before it is altered (from The Miracle of Coconut oil by Bruce Fife) Still NEVER heat an oil. Use water in a pan and lightly steam the food and then top it with a healthy oil when on your plate.
Without professional temperature control you cannot tell if the oil turn toxic. Healthy fats are necessary for optimal health, not all fats are bad not even all saturated fats are bad, for example Coconut oil is a saturated fat but it is a medium chain fatty acid and most all saturated fats are long chain fatty acids and long chain fatty acids are not good quality fats.
Remember all coconut products are now pasteurized in North America so maybe not the best food source. I do use it for oil pulling in my mouth after I brush my teeth and then spit it out. Fats help the body stockpile certain nutrients as well. The so-called "fat-soluble" vitamins—A, D, E and K.
FYI olive oil and avocados are full of vitamin K, necessary for building our fibrin net protein in our blood and giving it strength. Healthy oils are needed to develop cell membrane walls (the brain of all cells says cellular biologist, Dr. Bruce Lipton), to nature and support brain function, our nervous system, blood cell production, for glowing supple skin, bowel movements and emotions well being. We require 1/3 cup (5 tbls.of healthy oils daily) amd I male sire to include an 2 tsp of a healthy 3/6/9 oil as well!
19. Alkalinity helps improves health, reverses illness and disease and improves your sex drive. TRUE TRUE TRUE! We are alkaline by design and acidic by our bodily functions.
When we keep our 5 channels of elimination (bowels, urine, lymphatics, glymphatics and breathe) clean, clear and open we eliminate acidic build up. There is only one disease; over acidification of our fluids, tissues, muscles, organs and bones. Even sexual dysfunction is a build up of acidity.
20. Can thoughts, feelings and emotions affect our pH? TRUE. They release metabolic acid. In fact they can release 2-3x more acid than a food or beverage. Their preferred way to exit the body is out through the connective and lympathic system.
If not eliminated properly they can damage our organs if it becomes chronic… fear weakens the stomach, anger weakens the liver, grief weakens the lungs, pissed offness weakens the kidneys and heart break weakens the heart. On the other hand love, peace and joy strengthen our body parts and immune system! So manage yourself well. It's a lifestyle and not solely about nutrition.
You see we are alkaline by design and when we tend to that and nourish it, we flourish. We are acidic by function and when we take care of our five channels of elimination and discard our metabolic acid waste from functioning, we flourish in health and vitality.
It is quite simple; put alkalinity in and keep our systems flowing with lots of water and healthy oils so all of our systems get flushed out daily! We are what we ingest.
For more pH reading please read The pH Miracle for Living revised edition by Robert O. Young.
Zest in Life
~ Donna ~