Life After Trump Returns

11/11/2023:
O
n October 7, 2023, Hamas terrorists from Gaza cut through an impenetrable wire fence containing many security censors at the precise moment that Israel's IDF soldiers inexplicably stopped patrolling the GAZA perimeter. Hundreds of Hamas terrorists entered Israel performing terrorist attacks.
No one knows for sure the exact extent of the attacks, as both sides are notorious for exagerating the truth. But no one in Israel has offered an explanation for this amazing coincidence of a security breach.
Nonetheless, war has begun. What most of us assumed was that it would just be a minor skirmish that would be over and forgotten in a few weeks. Such events have happened in the past.
But not this time. This apparently engineered and treasonous war (civil war within Israel was talked about shortly before this occured) now has strong worldwide reprocussions. As in the start of World War III.
You see, every country has alliances with other countries. So, it is possible that almost overnight the entire world can be at war with each other. Many have warned us that this could easily happen, including Donald Trump.
What has Trump been saying along? For starters, how about, "I'm draining the swamp." We would all like to believe him. But where is the proof?
Fortunately it has been provided in the military content supplied website, REAL RAW NEWS. For those of you who do not believe this is for real, please click on my SKEPTICS article.
If this information is NOT true, then Donald Trump has totally lied to us — and we have NO hope for the continuation of this country. Trump has been draining the swamp to the extent that all of the tribunal facilities are now overflowing. The controlled media has elected to keep this from you — and unfortunately so have most of the so-called patriotic news websites.
There probably will not be an election in 2024. We will probably be under fully declared Martial Law by then. And not by Biden. By the loyal military Alliance forces still under control from the still-in-charge Commander in Chief, Donald J. Trump.
You see, the military has a vested interest in determining who really wins a presidential election. That is because they take an oath to protect the country against all enemies, both foreign and domestic. They have to know who is legally in charge. And in our case, our domestic enemies are working hand in hand with our foreign ones.
So, why isn't Trump still in charge? Didn't he lose the 2020 election? Not according to the military, who monitors the ballots by remote hacking. They claim he won by the largest landslide in American history. Common sense dictates that a man who holds numerous rallies attracting tens of thousands of supporters is going to beat a candidate who spent most of his campaign time in his basement and can only attract a few dozen people for the few he does hold.
But wait. There is more. During Trump's 2016 presidential tenure, he did something that even most patriots are still unaware of. He changed the legal status of the country from a CORPORATION back to its original conception of a Constitutional Republic. So, when the 2020 election was held, Trump was still legally the Commander in Chief of the New Constitutional Republic of America. Technically he is also still the President, too. But he conceded that title to Biden, who is now president of the now defunct and bankrupt corporate UNITED STATES OF AMERICA.
So, where does that leave us now? We are now in the beginning stages of a a horrific war in Palestine, which is bound to explode into a world war, as countries start honoring their various military alliegances (and here.) This could also involve Taiwan as China will attack them, figuring that we will be too weak to defend them.
Note that our border invassion continues. And many who come across the border are specifically here to cause trouble. That is a war on its own.
Is there an answer? Is there any single man who can save the day?
Yes. It is Donald Trump. But it's not going to happen by waiting for the election next year. It needs to happen right now. Within months.
As I view it, there are only two ways it can happen. The first is the previously mentioned Martial Law being declared. With the military giving full disclosure about what they and Trump have been doing behind the scenes, Trump will be able to meet with world leaders and achieve a stop to the worldwide bloodshed. The military will also hold honest elections utilizing Quantum Voting to legitimize Trump's Presidential status.
Or, there is a second way to achieve this. And that is for Trump to become Speaker of the House. While a new Speaker has just been elected, the chances of him being able to deal with both Biden and the upcoming world war is slim to none. Especially if the federal budget is not resolved (and it probably won't be, effectively shutting down the government during a world war.)
If Trump was Speaker of the House, he would be next in line after Harris (who is not qualified for the position). If the House pursues its investigation of Biden, he could and should be arrested for treason (either by the military or by the DOJ.) If that happens the job automatically will go to Trump.
Heads will roll on his first day in office. And Trump will make peace. Remember, he already has a close relationship with most of the world leaders.
But wait. It get's even better. There is a bigger surprise in store for the country and the world.
Who would be Trump's Vice President? How about someone with a long and popular family legacy? Someone who was a close friend to Trump decades ago. Someone who shares the same values and will keep the ideals of Trump alive for decades to come. The very same ideals that his own father believed in.
How about JFK, Jr.?
Wait? Isn't he dead? Didn't he die in a plane crash decades ago?
Yes, that is what they want you to believe. But if you really look into it, you find that there is nothing "right" about that crash.
He's with us now, along with his 3 kids and wife. The military approves of him. And so will all of Trump's supporters — and the whole rest of the world, once he is disclosed. There is simply no one else alive that could possibly fill Trump's shoes.
Check out the pictures on this site.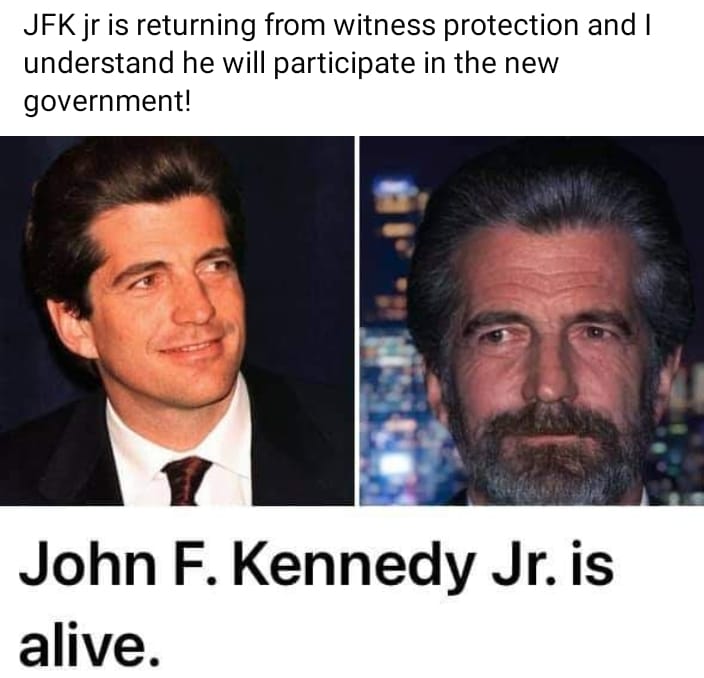 ---
Original Text:
We are living in a "dual reality." One of watching the daily spectacle of the attempt to destroy President Trump in the Deep State controlled media, and that which is reported on the Internet through websites and podcasts. Most people are totally unaware of this unique situation.
It is becoming obvious from current events that something big is going to happen. We have no idea what that event will be, but it could be an alleged nuclear detonation in the Ukraine. But whatever the event is, it will involve the split-U.S. military (White Hat/good guys vs Black Hat/bad guys.) This in turn will force the issue to go public (which is now kept secret through the contolled news media) and will result in an American civil war, with Americans shooting Americans within the military. On a smaller scale, this has already begun. Many more Americans are probably going to die.
Because of this split within the military, GITMO and all of it's high-value detainees are now being evacuated to Guam for security reasons. The Black Hats control an air base at the tip of Florida, within easy striking distance of GITMO.
When asked when GITMO might resume its present operations the reply was, "Sometime in 2024."
But wait. Why "sometime in 2024"? The 2024 election isn't until November 5th, 2024. Trump would not take office until January of 2025. GITMO won't be "safe" to return to until Trump returns to office and the Black Hats are arrested and eliminated. So, does this mean he will return to the White House sooner than the scheduled 2024 election? Maybe out of a dire necessity to prevent WWIII? We can only speculate. Note that Trump's announcement to run for the presidency never said, "In 2024." General Flynn and Col. Douglas MacGregor claim there will be no 2024 election.
Lately President Trump stated that he could end the Ukraine war in one day, even before he officially returns. Could it be that a nuclear detonation will have to happen sometime between now and then? One which will scare the world into believing there will be an ensuing worldwide nuclear holocaust? A situation where Trump and Trump alone can prevent WWIII — all legally covered by military martial law? Time will tell. The movie script continues. Please pass the popcorn.
Remember, Trump and Putin are good guys, both working against the cabal. They call each other regulaly to discuss mutual concerns and events — and to banter about who has had the most assassination attempts made on their lives. They are not going to start WWIII with each other.
Note, too, that Australia (and most of the rest of the world) has the same problems as we do. But they have no Donald Trump to save the day. There is a good possibility that Australia will become a state or territory of the USA in order to clean up their corruption.
Note that there also may be an alien influence involved. But as the Bible says, we see through a glass, darkly.
Who are the "White Hats" (and here)? Read about the White Hat Alliance here.
Many are wondering where we are in the timetable of world events. Many erroneously believe we are in the biblically prophesied "end times," even though specific end-time events are not even on the horizon. Only the creation of the state of Israel in 1948, is an identifiable event.
Many claim the international good-guy "White Hats," both in and out of the military, have attained all of the military tribunal evidence necessary to declare martial law. The "military sting" operation of the stolen 2020 election (see below) by the cabal (and partly through foreign interference, an act of war in itself) alone is justification. Other investigations and confessions of treason and crimes against humanity are also now secure and abundant.
So, why hasn't the USA military taken overt action and declared martial law? Why haven't the present military tribunals in Guantanamo (which appear to have begun in secret and also here) and the 222,000 sealed federal indictments against people in high places been made public? Apparently, even top people in the military are asking these questions, too. And so is Russia's Putin.
Two possible reasons:
First, people need to "experience" the truth about the corruption that we-the-people have allowed to occur down through time. Just "telling people" what is going on has never worked in all of history. The Bible documents that people have to be shown through real-life painful experiences, even if those result in mass deaths and sufferings. It is quite possible that many high profile former politicians and actors are now dead (executed by military tribunals,) though they may have doubles or clones taking their places in the public eye. Read the latest Gitmo arrest and execution list and here and here in the (FireDog) comments section at the bottom.
Second, we all need to repent of our individual and collective sins. God is in control and will show mercy on us only when we repent and He sees fit. There appears to be little-to-no repentance being displayed or called for by our spiritual leaders. Most uninformed people regard our present troubles as a mere annoyance or inconvenience. And it may well be that the worst of our troubles is yet to come as all events seem to be continually fluid and predictable.
Trump (and the military) knew in advance that the 2020 election would be fraudulent. And he had a good reason for allowing a 2022 fraudulent election. And now he has formally declared his candidacy for the next election. Notice that he never said, "the 2024 election."
In the meantime, inflation will continue out of control, food shortages may begin, and masses will continue to die from the poison vaccinations. A new pandemic may be intoduced to take over where the coronavirus left off, with yet another new deadly vaccination that would be introduced (along with possible mandatory masking again.)
The best speculation is that something will happen in 2023 with the public announcement of the GITMO tribunals.
Or, a nuke will go off somewhere, there will be a real food shortage, or a massive banking system failure.
Only under Martial Law will the traitors be arrested and a foolproof Quantum Voting Sytem installed. That will not happen under our present corrupt judicial system that will not entertain lawsuits about voter fraud.
So, if God is using Trump, as it appears that He is, God may be allowing the evil and the suffering to continue. Maybe He is waitng for us to repent? There simply is no specific timetable. Only God knows when things will change — and God's ways are not our ways.
Watch this video on Trump's behind the scenes activities. Detractors who claim Trump is the anitchrist because he signed onto the Jewish Noahide Laws aren't getting the big picture.
Military law is running the U.S. Watch
Derek Johnson and here.
Then l
ook for his articles here and here. And watch the TWO TRUMPS video here.
https://www.goodlion.tv/On November 18, 2022, the House announced the criminal investigation of Joe Biden. However, no further information on this investigation has been forthcoming, other than the discovery of classified documents in Biden's garage and homes.
And the Qauntum Financial System for banking is apparently set up, though not yet operational.
Nothing is going to change until the military goes public with its arrests, tribunals, and executions. According to this New York Times article, that was originally supposed to happen sometime in the summer of 2023.
Keep up to date on events on our recommended Independent News Sources.
Read about the Illuminati here.
Note that the present legal problems of Donald Trump will not prevent him from regaining the Presidency.
Watch this extraordinary Trump documentary, THE GREATEST SHOW ON EARTH.
Life After Trump Returns
While life for most people around the world continues to become harder and harder, those "in-the-know" wait patiently for Trump's return. No one knows when he will return. Even the Alliance is getting anxious about the situation. Ultimately, it is up to God.
But what will life be like after Trump does return?
The arrests of the evil Deep State (cabal) people (and here) will continue as they have been (and here,) only now it will have been made public knowledge through the Emergency Broadcast System program to educate the world on what has been going on. Thousands more will be shipped to Guantanamo Bay Detention Center (aka, GITMO) for military tribunals for those charged with treason and crimes against humanity. All evil people and evil organizations worldwide will eventually be dealt with.

Fuel prices will eventually return to normal as the U.S. once again becomes energy independent as Biden's destructive energy policies are dismantled.

Food prices will eventually drop and food shortages will eventually disappear.

All federal income taxes ever paid to the U.S. will be refunded to its citizens. There never was a law saying you have to pay them. And the federal government will gradually be reduced in size.

NESARA/GESARA will be implemented. There is over $4 million dollars worth of gold available for every man, woman and child worldwide, presently under U.S. military protection. There will no longer be any poverty and a quantum economic system will be put in place. Read about it's history here.

The housing market values will probably skyrocket as soon as the wealth starts to be disbursed. It will take years to build sufficient housing for most people worldwide. People will have money to buy, but there won't be enough houses available initially. Eventually the prices will drop and even out as more houses are built.

Life after Trump returns may well be the beginning of the biblically prophesied Golden Age.

Read his projected itnerary here.

FAQ
Be sure to click on all of the hyperlinked words, including the titles in the hyperlinked articles.
1. Why are people so blind to what is going on in the world today?
The Bible says that it is God that blinds our eyes. Whether the issue is scripture, politics, or one's own health, people will blindly go to their grave believing a lie, even if it kills them. And if that is not bad enough, so does Satan and his earthly representatives (cabal, education systems, and controlled news sources, etc) deceive, too.
2. Didn't President Trump promote the killer COVID vaccine while he was office?
This subject is NOT as cut and dry as many think. Read these articles on what really happened here and here and here and here and here. Trump's trusted Food and Drug Administration Commissioner Stephen Hahn lied to him and was recently arrested and hung for treason here and here.
Trump later posted this video by America's Frontline Doctors in a tweet, who were promoting the safe alternatives of Ivermectin, Hydroxychlorquine, and Quercetin.
Note that Trump has never believed in nor taken a flu shot. Some of his many employees' children have also had very bad reactions to childhood vaccines that he was made aware of. He has never been a fan of big pharma. Remember, this man plays 5-D chess. He's smarter than most of us put together.
Note, too, that the truth about the viruses that fly through the air has never been told by anyone but a small handfull of doctors and researchers. It simply doesn't exist. People who are convinced that they have COVID are simply too acidic (from an acidic diet) — or have been poisoned by excess 5G telcom radiation from their street light in front of their house. Or both. There is no legitimate test for COVID (because it doesn't exist.)
3. What is happening in Israel?
Based on Israel's past history, it is almost impossible to tell what is really going on in Israel with this latest Hamas invasion. How did Israel get caught so off guard, not even manning the border fence? The chances are they didn't man it on purpose and knew full well what was going to happen — because they wanted it to happen. Why didn't the Iron Dome save them? Because it doesn't exist. Will America become involved in a war that could go nuclear? Not if the White Hats have anything to say about it. Was the attack an "inside" job?
4. The Maui massacre has stepped up the now open civil war between the White Hats and the Black Hats. Mass destruction, murdering of the innocent civilian population, withholding relief aid, and worse of all, the abduction of 2,000 children (who may still be alive on Maui in the underground tunnels awaiting transport off of the island.) While the White Hats have made 2 attempts to neutralize the situation, it is obvious that it was too little, too late. Meanwhile people are suffering and are trapped on the island, unable to leave. Is this part of the "movie" that we are supposed to sit back and watch while eating popcorn?
As distasteful and upsetting as this situation is, it is part of the long predicted "civil war" that has been prophesied by many in the know. War is hell. The forces of evil are much more formidable than anyone ever imagined. It's not just about a small number of evil cabal players at the top of the world power pyramid. It's also hundreds of thousands of equally evil people in everyday life who are aligned with them.
As it stands right now, there are still over 250,000 sealed indictments outstanding, waiting for the resources to arrest these people, imprison them, try them, and then dispose of them accordingly. That is a huge number. Not to mention that there are brand new ones who expose themselves on an almost daily basis. It is an overwhelming task. Facilities at GITMO, Guam and the other military facilities for tribunals are now all maxed out. It is a major logistical problem. I forsee this operation going on well into the new Trump administration.
UPDATE: The White Hat's latest actions in Maui have resulted in an apparent new policy. Gone are the days of arrest, imprisonment, and tribunals. Now it is all out war with mass casualties. Expect the Black Hats to retalliate. At some point, the news of this will inevitably spill over into the controlled news media. This is the beinning of civil war.
5. What is with all of these bogus charges agaist Trump? These could drag out forever. And Trump could actually be imprisoned. Will the White Hats in the military allow this to happen?
Rest assured that Trump is allowing all of this to occur. It's a win-win situation for him. These charges and the people behind them just add to the number of evil people that eventually need to be arrested. As for the military, they will not allow anything to happen to him. There are precautions in place to insure his safety. The military would take down an entire building to rescue him if need be.
6. There are many people claiming that these are all end-time events. Many are even having prophetic dreams about it. Is this the biblically prophesied end-times?
Absolutely not! The people who claim this are basing their position on a complete lack of biblical scripture, and/or dreams that they claim are from God. The fact is that specific events must happen as we draw near to the real end times. So far, the only event that has happened is the creation of the state of Israel in 1948. Nothing else has happened or is about to happen.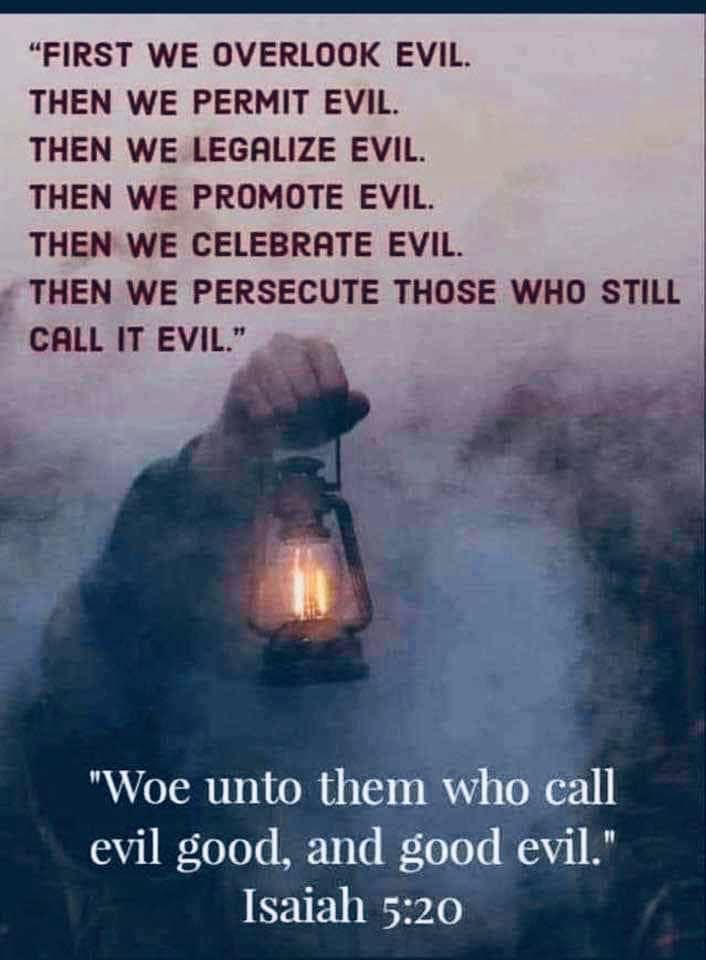 As for dreams, they are a dime a dozen. And if they were really from God, why would He choose some unknown person to give it to? I urge everyone to read both of these articles that explain everything, here and here. Did you know all prophecies happen in three's?
7. So, who is going to win? The good guys or the bad?
Well, I'm betting on the good guys. It would appear that God has inspired Donald Trump to do what he is doing. And God has apparently inspired 200 generals to back Trump up. But the final decision is up to God. It is God who puts our leaders in office and directs world affairs. That is a hard pill for most of us to swallow. But it is easily documented in the Bible. The White Hats are now discussing stepping up their game, ironically inspired by the success of the Hamas invasion of Israel.
Watch the Trump Time Travel video here. Watch this Q video.
8. Who is really responsible for the mess we are in, God or Satan?
Actually, neither. It is us who have allowed the forces of evil to prevail down through time. We are the ones who voted for the "lesser of two evils" in elections (ignoring the other non-cabal candidates listed on the ballot.) We are the ones who were afraid to stand up against evil. We are the ones who are still afraid to even talk to people in our lives or even our next door neighbors about this evil. So, now we pay the price. God will end this insanity when He decides. And we all need to repent of our sins. Maybe this is what God is really waiting for? It is a main theme throughout the Bible (you know, that book that everyone has and that no one reads.) Here is what Trump says.
9. Will Trump have to intercede with the Israeli-Hamas war, too?
Possibly. While most people tend to be pro-Israeli and view the Palestinians as animals, even Trump knows there is a dark side to the Israeli government as they have sabotaged peace plans in the past. This "war" has been going on since before 1948. This 2019 Palestinian documentary gives you a point of view from their perspective. Remember it was the Israeli government that initiated genocide against their own people with mandatory vaccination. And now they did nothing to prepare for the Hamas invasion tipped off by Egypt and shut down the fence intrusion alarms. Amazingly, no one in Israel seems to be armed. Why is that? And polls indicate that the Israeli citizens continue to back their government. But, apparently Trump does have plans for peace. And a Palestinian state is prophesied to occur in the end times (which we are nowhere near.)
Israel has now invaded Gaza in response to the Hamas terror attack. No one is demanding answers from the Israeli government (who were close to civil war right before this happened) as to why the Egyption warning was not heeded, why the fence security was turned off, and why the IDF border patrols were mysteriously terminated.
The 2.3 million people of GAZA are likely to be exterminated (1 million are children,) and worse, within a very short period of time the alliances involved here could easily result in a world war. Only Trump's intervention, guided by God, will save us all.
Clowns to the left of me... Jokers to the right.